'63 DC Usual rust (rockers, jack points, front and rear floor left and right) and some not so usual such as outriggers. Body and side gates are very straight. Rear gate is bowed. Bed has surface rust. Have replacement metal for everything mentioned above. Bus has been taken completely apart, a rolling shell and ready for restoration. Has been stored in garage for past 3 years. I have a few more pictures if interested. Speedo, switches, front and rear lights, interior lights and door panels included and in good condition. Rear seat and pedestal in very good condition. 1/3 2/3 front seat needs recovering.
1963 Doublecab,

needs resto, fair to good gates, good seats, lots of parts, needs frame repair, rockers , cross memebers ect






1962 double cab that needs help but essentially a complete bus including front and rear seats and pedestal. Bus has rust, dings and dents. has original motor and reduction gear boxes. BC registered with clean title. last on the road 1977. Speedo shows 55,000 miles. rusty floors in rear and front both sides. Has all original headliner and interior panels. Has a chrome and rust front emblem .
M code indicates it originally came with hoops and canvas but was not with truck when I bought it. definitely a project. rear section of roof has a dent. front nose has dent on passenger side. rust in passengers rocker. Frame looks good. some rust on outriggers .Rims are a mismatch. tires are shot. unmolested dash. wiring all good but some relays missing. fuel gauge looks to be very nice. Passenger windshield glass cracked. rear window pop out complete with handle. will consider binz in trade. I have too many double cabs and this one has to go. bumpers are rough but complete. gates are in very good shape. send an email and I will forward more pics.





61 single cab 4sale in australia
full resto bare metal respray 2 pac 1600 tp ball joint front big nut box guages scat shift timber wheel alloy chequer int roof
'61 crew cab (the red one) born 12/21/61 ( the winter solstice ) daily driver, bad center link, leaky wheel cilinder?, frankenstein motor, no interior panels, back seat but not correct, needs total rustoration !
oct60-aug 62 humpback front seat. Upper and lower with no broken springs
.

1967 Double-cab. restored. new paint job green and white. New (rebuilt) IRS trans and kit which eliminates the torque converter boxes. Truck cruises effortlessly at highway speeds. 1600 cc dual port motor. new tires.

1965 double cab for sale. I've owned the pickup since 1985. My grandfather owned it before that. I'm moving down to the southeast and can't take the truck with me. The truck is mostly original. The only modifications are a 15 year old paint job, a new 1600 dp engine, and a 12 volt system. The pickup has minimal rust--base of the battery box and the inside rail of the side door (no rust on the outer panel.) The lower hinge of the left door needs to be repaired. I have other pictures that I'd be glad to forward.

63 crewcab walkthru
95% rust free,EVERY DAY DRIVER,1915cc with 5,000 miles,hurst shifter,type 3
transmision with rear lowering kit from wolfgang,new brakes all around,new
selector drop front beem with dropped spindles,polished 5 spoke empies with
135s and 165s,it was made into a walk thru by a professional VW
shop(butterball inc.)it has front,rear seats and floor rubler mats but no
panels,the body is all complete and it has never been hit front or rear(but
it does have a small scratch on the driver side),the floors are solid,come
test it and drive it home, sorry NO TRADES, thank you and the bus is located
in the city of inglewood, C.A, call for more details.











1967 Double Cab
Located in San Diego, engine rebuilt approx. 4000 miles ago. Electronic
ignition, speakers, 12V, runs good, tranny sometimes slips out of reverse
under load, all guages lights work, wippers and horn both work, heater box
however no heater tubbing, extra set of gates (gates which are on it are
eaten out by rust at the bottom so the gates will go with the car), original
speed govenor, original seat covers under newer ones (condition unknown),
some rust, and one dent (see pics) More pictures available upon request.









61 singlecab, body was brought to bare metal,rusted panels removed, sprayed w/PPG acid etching primer,epoxy primer,corrosion resistant, high build primer,wet sanded and finally dove blue single stage acrylic enamel.All new wcm rubber was used all the way around.New roof and door panels og.seat cover. All electrical & mechanicals solid w/1600 d.p. engine.Comes w/5 15"rims (14" painted on car) and rare 37&1/2 hp(bastard) long block,distributor and manifold.Have por 15 to coat underside but havent done so potential buyer can see all work done.
NEW BODY PANELS (das bulli haus & wolfsburg west)
lower nose
l&r doglegs
l&r front floorboards
l&r inner wheelwell panels
tophat floor crossmember
l&r cargo floor
all four out riggers and jack support
l&r inner and outer rocker panels
l&r inner rear wheelwell panels
center support
new truck bed,flat 18 gauge steel (no replacements avail.)
or partial trade for pre 63 dbl cab or 1977-78 honda xr 75





Nice running 1965 Single Cab. Was previous owner's daily driver until 2001. Sat in shed until early 2003, when I rescued her from there.

Starts, runs, drives, very dependably, albeit slowly, as I believe the engine to be original, or at least year-correct. Has some surface rust and holes, but nothing really horrible. Good sized dent in driver's side below gate.

Recently rebuilt redux boxes.

I bought her to drive, and eventually restore, but have decided to get rid of a couple projects and purchase something I can really use as a driver. I'd take a decent Thing in trade.









1961 VW Double-CabTransporter For Sale or Trade
Needs work




Reduced - Totally restored 1965 singlecab for sale. Absolutely no rust. New sikkens L-87 pearl white paint (truck disassembled, all seals out). Shown four times, won four first place trophies for type II's. From front to rear, replaced OEM parts w/lifetime warranties: front end, steering gearbox, seals, lenses, glass, rebuilt rancho performance transmission and gear reduction boxes, linkage, wolfsburg west "stock" upholstery w/horsehair pads, kick/door/head panels, rubber mat and seat stand mats, battery, safari rear window, and more. 1600 single port engine w/~4000 miles, w/ dual weber 34ICT carbs w/hex linkage, w/"dual" oil bath airfilters (1955 1/2). Over $18000k invested, asking fair market price.
1959 Single Cab with 1700cc engine. Dual Delorto carbs, electronic
ignition, electric fuel pump, runs great. New alternator and battery.
Driven about twice weekly. Very reliable. Very little rust. Drop gates are
in good shape. Will trade for VW thing





very nice decklid for a D-cab or S-cab from 55-67 if would fit and look great all you need to do is tap weld a hing plate to one side and your ready to go ....It all so has a (NOS) light with a repop lens ......




A very nice front Press bumper w/brackets ready to bolt on or for a little body work and paint painted black ...comes off an early 57 bus. and would look good on yours...........



1963 Single cab. $3000+ in recent receipts. All new brakes, shocks, tires, clutch, pressure plate, powder coated rims, roof rack from p.i.p., door panels, and much more. 12v with strong 1600 engine. All mechanical done by a local professional vw shop. Very straight with dual treasure chest doors,
Beautiful Nose, floors, gates, and bed. The Bad: tranny leaks from axle boot, there is a hole where the battery sits, and the radio area was widen a little but can be covered with a delete plate. Located in Chino, Southern CA area








1961 single cab(double treasure door)
all complete and original,90% rust free,no accident,rebuilt 1600cc single
port,new brakes all around,new interior(still in boxes)but i will put it
on,i still need to primer the inside of the truck and the bed area,it has
the original radio hole with a radio block off and the original tail lights
and all the electrical works,it has the original rimps and it has a double
treasure door,it has original yellow plates(cal plates) and it has 94
tags,the car has the original tranny with a hurst trigger shifter.the car is
a everyday driver,i am located in the city of INGLEWOOD C.A











65 Single Cab
Wanted Good Home for 65 Single Cab. Needs some work. Very nice Porsche Rims. New Clutch Plate and Throwout Bearing. Body is in very good condition. Has both front and rear bumper. Some rust on floor boards. Battery box has some rust. Interior needs some work. 1600 single port engine. Motor is new but has a sucked valve. Some paint chipping was done when VW symbol was stolen off the front. Needs tags. Over all a very nice truck.






5/13/03
1961 Single Cab with factory safari windows
Custom built motor and transmission, both built from scratch in 1988, 10,000-15,000 miles only. This Cab was my first car (purchased in 1988 from an importer in Seattle) so I took great care of it over the years. It has been sitting untouched in my garage (not out in the weather) for 4-5 years. Will be taking it in to the shop to have checked out and to have everything looked at. So it will run great.
Motor: 1776cc motor with dual 44mm Weber carbs, Eagle 120 race cam, big bore valves, Monza World Pro Exhaust, off set oil cooler, and an alternator. I did race it once; 1/4 mile in 14.7 seconds at 96mph- this motor ripped the retreads right off the rims- so it has a little power if you know what I mean.
Tranny: 1966 case with Porsche 911 1-2-3 gears with 912 4th, very quick 1-2-3 with a high end freeway 4th, staight axels- no gear reduction boxes, will do 100+mph. A real performer considering it's a bus!
Because of the straight axel kit the Cab is lower.
Imported from Honduras in 1987 so it has factory safari windows.
Color: ceiling wax red, partially / mostly primered.
Minimal rust, bed area
New tires with stock rims.
Chrome hurst shifter, hey...it was cool in 1989!
Newer brakes and master cylinder
61 singlecab, it has a 1641 with dual 34s with dellorto linkage, 75 amp alternator,gel cell batterie,clean motor,head tins and alternator powder coated silver vein,misc.billet parts , type 1 tranny




1958 SC: A nice complete truck with original/correct bumpers, decklid, taillights etc. Nice cab w/ reupholstered seats and new door panels. Orig. roof panels and visor. YOM commercial plates. Good driver w/ 40hp engine. Will sellw/out engine for less.
64 single cab , it needs a total resto or use it for parts, it has decent gates, and treasure chest doors, its bed floor is rusted out and needs some front floor repair, no engine, has clear title,

1959 VW single Cab - Because of my need to move and having a job that consumes 100% of my time I can't dedicate time to my baby, my 1959 VW single Cab. She is close to complete restoration, from one end to the other. You will not find another one at such low price. She is 98% original, the only thing I changed was the carburetor and it looks very similar to the original and have a paint job at the same color than original... good job. She has never been driven in a highway, hence has been fortunate and has not been in any type of accident. She is in my garage tucked away except for her daily engine warm ups (in the garage) then I cover her for the rest of the day.

She has all her original tags. Also original the engine, transmission, reduction boxes, heater boxes, jack and other accessories and many extras. She is 6 volt, the only thing I haven't found is the original coil. Everything work on this baby... is in excelent condition. She is a beauty and a head turner. You must see her to believe it.





1963 Volkswagen Double Cab Updated with pics!
23,242 Original Miles

Bought from Original Owner.
Bought at San Antonio's Intercontinental Motors in 1963.

-All Parts intact including fairly straight gates. Has original Rims and I
believe the tires are also. The pictures show different rims/tires which i
will keep.

Repainted Exterior, Original Painted Interior

Sapphire Radio
1963 Texas Truck Plates on it, but not renewed
Has dealer installed Trailer Hitch in back
Has installed tow bar thru front bumper, so bumper is straight...but has
holes in it.
Adjustable Ball 1-7/8 or 2"

All 3 gates are included, and are 98% straight. Only slight powdery rust
inside. (pictures show gates removed to keep from being stolen)

Body Rust through in small amounts at:
1) Drivers Door Dogleg (Inside step right at edge)
2) 4" x 6" hole in drivers side below side rear window (to get the dirt and
rust out
2) Battery Tray
3) Side Panel in area under Door 3
4) Varying spots of Poor Paint "cancer type" bubbles
5) Varying spots (2) of rust through on the drain tracks outside are above
drivers door and front of cab

Dents:
1) Small dent above rear passengers side tire
2) Rear Motor door has 2 dents, but I have a replacement door for it.

Mechanically, it does run: I rarely street drive it though as it needs a
replacement spring on carb, and that is the one repair my mechanic did
(rigged) that i have never been comfortable with to the point I cant take
it on highway (tow yes, drive no)











59 Single cab for sale, is all original and will run but has not run for several years. It is the original color, blue is the perfect candidate for a restoration and is uncut, nothing is cut, all parts included as well as an extra tail gate,






1965 single cab has been sitting for 4 years. Has an engine but you need to put it in. There are some extra VW parts that go with it. The drivers side door has damage and won't shut but it can be fixed.
60 Crewcab
Parked for 20 years. Rockers are rusted, all gates are there, back corners are good. Engine isn't installed, but included.

Checked metal label behind the passenger's seat and it was produced on 12/2/60.



1967 VW Crew Cab - Rebuilt 1600cc single port engine, Rebuilt stock bus transmission with new bearings in the reduction boxes. Only 350 miles put on truck since everything was installed. New alternator, coil, battery, rebuilt carb, new tires, new rear brake cylinders/shoes/hoses. gates are good and straight with some bublles unde the paint but nothing major. Some minor rust by the hinges but not flimsy at all. Bottoms of gates are rust free. Bed is great, front floor looks good but there is some rust behing the front seat wall where it and the rear floor meet. Front out riggers need replacing and drivers side rocker has been replaced many years ago poorly. Paint is roughly 15 years old. Front and back seats have great upholstery. Westy rack is included with the truck
truck is located in Phoenix, AZ










65 single cab for sale,missing alot,good for parts or i guess resto,the treasure drs are sold,as well as frnt wndws,first $550 takes it or lets cut it up for parts, see anything you need? p.s. the ghia does not come with! i must get rid of this thing,as its a terrible eyesore
1962 truck,1600 sp 67 trans,minor rust,needs paint in portland oregon,ps have donor truck for parts if needed
1963 Double Cab Pickup needs lots of work When I got it the engine was out and it turns over. Tons of new parts and some used to go with it I just don't have the time or space! New parts: Dog legs, Rockers, Front lower panel, Floors for behind the front seat. Pickup bed is good. I also have a set of doors both front and side(used). I started to work on the gates, they are rusty but can be saved. I paid $1,600 2 years ago and spent $1,200 for new and used parts. http://www.macwi.com/images/doublecab/



1964 SINGLE CAB , STRAIGHT BODY , LOTS OF GOOD PARTS , SIDE GATES ARE GOOD ,MINOR RUST, BACK GATE STRAIGHT LITTLE RUST, BANJO MIRRORS , FLOORS ARE RUSTED OUT , TOP BED IS GONE & TREASURE CHEST IS ABOUT GONE , FRONT FLOOR NEEDS SOME WORK ALSO , FLOORS IS MOST OF THE WORK IN THIS PROJECT . ROOF SECTION REAL GOOD GLASS IS GOOD , MISSING ONE SLIDER WINDOW , AND A WING WINDOW . BOTH TREASURE DOORS ARE GOOD . NEW FRONT SKIN PUT ON . HAVE DELUXE BUS WITH SOME GOOD PARTS ,COULD BE USED ON SINGLE CAB.


SC canopy frame for sale. Reduced- $500 obo
I'm located in southern CA. city of Chino about 45min. away from LA.



1965 Crew Cab
This beauty was in storage from 1969 to 1988. When it was "discovered", it had only 39,000 miles!!! The engine had seized up and was replaced with a 1641. Over the next ten years it was used sparingly, traveling only 20,000 mi. I purchased the vehicle July 3, 1998 and used it as my daily driver until about a year ago. I have made numerous improvements including: show chrome bumpers, new tweed interior, headliner, dual carb's w/ Berg link., dual quiet pack, new door and window seals, polished 5-spokes, speed shifter, and an original w slat roof rack. The truck now has 69,000mi.










Reduced!
Restorable 62 single cab. Disk brake front end, Koni shocks, No
engine, otherwise complete, some rust .












Single Cab gates for sale
Left and right single cab gates, no rear gate, they have latches with all gate hinges present and are fairly straight with minimal rust holes on bottom, these are good used units, I live in Fresno California (Center of California), they must be picked up. Possible trade for a rear double cab seat base early or late style???
SOLD





Rear Bumper- SOLDCame off of 1958 SC former Cablevision TV truck from Berkeley, Ca. Approx. 80 pounds with diamond plate deck, license plate holder, etc. Maker unknown though well made. Too nice to scrap,

Pair of SC gates, SOLD!!I won't be kind, they are BEAT! A little bowed and rusty. I'm not askin' much for 'em either. If you know how to ship them, I will ship for the extra charge, if not, they are in the Denver area. (I could probably deliver locally N/C) Email for pics. Hey if you don't have any or you can weld, these will work! Sorry no rear gate. I do have plenty of latches for those in need.







SOLD!
have set of 1/3-2/3 dk. brown with off white piping bench TMI seat covers. Never taken out of the original box.





2/9/02
Single cab tilt frame for sale.SOLD Fabricated from original jig, fits stock bolting pattern. Oak treated for rot/uv protection.
Complete set of single cab gates. SOLD!!!!! Bead blasted. Staight with some rust. Tail light cut outs of rear gate.
SIDE GATES (2) for a single cab,SOLD Just Blasted, outside very straight. Insides and bottoms need a little work with hinges

Front and Rear Bice bumpers off a '57 Single Cab. These are rare

GONE! - these were recently taken to the scrap yard. Nobody wanted them.




1/1/02
DC GATES

SOLD
Call after 6:00PM CST. Or send me an e-mail. Make your best offer.
Thanks!
Sloan
5 Porsche phone dial rims
SOLD!! 7Jx15 with Pirelli 205/60 R15 90H tires on the backs and Pirelli 205/50 R15 86V on the fronts. All rims have center caps on them. One of the rims is a spare same rim with factory laquer still on it and no tire. 4 of the rims have been polished before. These have nice offset for VWs with minimal outer tire/rim clearance (bus or type3) Small porsche 5 bolt pattern.




Heres a reference only pic to see how they'd look on a sc


58 SC
SOLD!
Original press bumper truck with plash guards,
40 hp motor runs strong, Big nut tranny, complete interior,
bumper steps, ambulance fan, 560-15 whitewall tires,
tilt and canvas.
A GOOD KID WHO NEEDS SOME ATTENTION.
SOLD!!
1963 SC Clean Interior (no holes in seat, etc.). California tags until July 2003. Runs real nice, no joke (never have had problems with the motor) electric starter. Poor thing has the typical rust though. Completely primered (to try and stop the cancer). If your looking for a bus to run around in or a new restoration project
1966 VW Crew Cab living in Florida and priced to sell.
SOLD!!
The good:
1) All original and complete
2) Uncut dash
3) Solid seats front and back with seatbelts
4) Running 1600 single port
5) 12 volt conversion
6) All glass good
7) Front end and doors very solid and rust free
The bad:
1) Rust in rockers and floor under back seat (bad bondo job)
2) Rust in bed (plywood covering it)
3) Two of the gate hinges rusted out and need welding as well as some lower channel rust
4) Wheel wells cut out (have replacements from a '63 to include)
5) Round tail lights installed (however, metal used to cover up difference only pop riveted in…so an easy fix)
6) Battery dead
This bus needs a good tune-up and battery to get it back on the street and then someone who is into doing some metal work. Call or e-mail with any questions. I have extra photos and will provide as much accurate and honest information as possible.
65 double

cab

- SOLD!!!This car was a basket case when I started. My goal was a solid driver and not a show truck, which is evident in its reconstruction.
The Good: The car has a new wiring harness and all electrics work as they should.

New brakes at all 4 wheels including wheel cylinders, shoes and flexible hoses.

A rebuilt engine with just over 1k miles on it.

New front windshields and all new rubber.

New

weatherstrip

for the doors and

windows (

felts and vent windows rubber is old). Zero rot on this car now, but had heavy rust damage

originally

so there is a lot of new steel welded in. Has original split 60/40 set of front seats and the complete rear seat with

pedestal (

ratty upholstery and some rust at bottom of pedestal). Good original headliner with working interior light. Rebuilt reduction boxes on a big nut

tranny

. New axle boots and engine mounts.

New shifter bushings in the front.

Straight bed, good gates.

The whole truck had been POR

15'ed

and then primed. Has original front mat.

The not so good: The driver side gate is ratty due to some PO welding in a section at the top. The cargo floor in the passenger area is not the correct type of floor material.

Its

a flat piece of steel from the divider to about 1/3 toward the back. The body work is

is

good but is not ready for nice paint. The truck is in primer because I was going to have is smoothed out by a pro before it was shot with color. No interior panels or carpeting. The floor has been coated with sound deadener/rust proofing material so it will never be "stock" paint without considerable work to remove the coating. The seats are not recovered and are original. They are ratty.



Its

a great driver

that's

ready for anything you can throw at it. All it needs to be a real head turner is an interior, smooth out the body and paint. The reason

I'm

selling it is because I want the cash to funnel into my

Ghia

vert

. I will provide pictures of any part of the car you request. I understand buying a car over the internet can be tough and I will be as honest and straight forward as possible. Thanks for reading all this!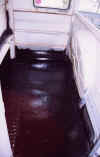 10/4/02
1960 VW Crew Cab Pickup For Sale
SOLD!!
Daily Driver. 95% restored. No rust. Every moving part
rebuilt or replaced. Freeway Flyer transmission from
Transform of California. Rebuilt 1968 ball joint front end.
Rebuilt 1600 motor with Gene Berg forged 85.5 pistons
and cylinders. Gene Berg exhaust and oil sump. New
radial tires. All rubber replaced. Body is straight. Side
gates and tail gates have minor dings. Truck is L21 Pearl
Grey. AC kit from I.C.E. of California still in box
included.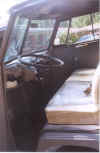 7/18/02
Have a 1963 (I think) single cab, that I used as a parts truck. Got the parts I needed, but there is still a lot of good stuff. Does roll (kind of, one rear wheel no turn) Body pretty much a rust bucket BUT all there. No motor, but has transmission. Unknown condition of it.
**Free to to good home. In northern middle Tennessee. No title.
Gone!!
FOR SALE: '63 VW PU
SOLD!!in exceptional condition. It has a NEW motor (much better than rebuilt), rebuilt trans., and recent body work and (orig. color) off-white paint. I've had it more than half its lifetime and so know that it's been well cared-for. The reason I'm selling it is that I've just moved to town from the country and no longer need a truck. The cab has replacement orig.-style upholstery and panels. The only changes from original are a 1600 engine, a high ratio pinion gear (so you can keep up with high-speed traffic), a 12 v. elec. system, and chrome hubcaps. In brief, it looks original and drives better than original. I live in Santa Cruz, CA; you could drive the PU across the U.S. without difficulty. Price? I paid $2000 for it over 20 years ago. It was appraised at $6000 several years ago. The recent work mentioned above (at the best shops in town) cost over $6000 (I have the paper work).








7/02/02
1961 Single cab
SOLD!!!
MUST SELL!!--please call or email for more info. No trades please.......
95% original, dove blue, runs and drives great. Never wrecked. All electrics work perfectly (6v). Rebuilt 1600SP with only 850 miles. Tranny and suspension tight and solid.
NEW: battery & cables, starter, shocks, clutch, tranny mounts, tires, exhaust, and speedo. Rebuilt reduction boxes.
It does have some bad rust spots: TC floor, TC door, outriggers, rockers and battery box. Other spots are fairly minor. Very solid, straight and strong overall. I use it to haul around yard equipment with no problem.
Several extras included: Complete 12v conversion kit w/alternator and electronic ignition.
Good used 12v flywheel and clutch, 12v starter & solenoid, new clutch cable, 3pc dual port manifold with 34-3 carb. Extra fuel pump, extra heater boxes, quiet pack muffler and misc. dual port
tin. Clear title, Inspected and tagged. Will drive anywhere in any weather.
1966 CREW CAB
SOLD!!!1641 ENGINE REBUILT 3 MONTHS AGO, TRUCK HAS NEW TIRES 5 MONTHS AGO.
TRUCK HAS SOME BODY DAMAGE ON THE PASSENGER DOOR AND ALONG PASSENGER SIDE, TRUCK HAS SOME RUST IN THE FLOOR BEHIND THE THIRD DOOR, A PIECE ABOUT 7"X11". TRUCK IS VERY SOLID. GATES HAVE MINOR SURFACE RUST AND ARE ALL IN GREAT SHAPE. SEATS ARE IN AWESOME SHAPE. WILL NEED SOME WORK ON THE WIRING, TRUCK IS A DAILY




1965 Double Cab
SOLD!!! Runs well, steers straight, stops fast, Trans tight.
doesn't pop out of any gear. Original Factory Safari Windows. Body needs some
work due to spending most of it's life in Sunny SoCal.

1960 Double cab
SOLD!!!
--Rare color-- Sealing Wax
Red---M392 M181 M207 M544
Interior SWR, original seats with one rip in passenger side of the front
seat--original refinished interior panels--40hp motor--Outside is primered
in a semi-gloss rose color--looks good!! No rust--No dents--some small dings
in the original long/short/long gates--All new rubber--plus new
tires--shocks--brakes--bushings--starter--carb--regulator--and wiring--12
volt system--powder-coated bumpers and wheels. New mirror arms and rare NOS
truck mirrors. Wood slats in the bed--new bows and custom made canopy.
Have over $9800 in the Truck, but will listen to offers. Only reason for
selling is that I have another splittie coming and need room in the
garage--68,000 original miles.




4/18/02
1959 VW SINGLECAB
SOLD!!!Body is in good shape, rear gate is not original, double underbody cargo
doors, bed in good shape, have all glass, one front window has crack, has
most parts minus engine and a few small things. Has transmission, no rear
bumper, front cab in good shape.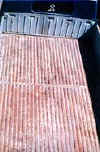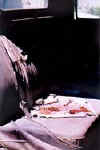 4/10/02
1963 crew cab.
SOLD!!!!1600 dual port, replaced most all of the brake system. Over $850.00 in new parts, need to sell due to house fire!












3/25/02
1965 single cab
SOLD!!!
needs complete restoration. double chest doors, no engine, been sitting a long time, has rust - needs front doors, rockers.
$1000
its in tucson,az
From webmaster: I went to mike's house and took the pictures below. I have larger more close up versions of the pics if you want to see them.










3/25/02
2 BARNDOOR SINGLE CABS FOR SALE
SOLD!!
1953 LHD,Dove blue, running and driving, everything works, solid truck for it's age, some updates including taillights, but otherwise pretty original with original trans and lever arm shocks, starts and drives well on 30Hp 1200cc, brakes will need looking at to be a daily driver.






1954 LHD Project bus,
SOLD!! needs cab and locker floor work, front end good, rear corners and battery trays good, decent bed,good doors and lids, grooved handles, dash pod good, scruffy looking but restorable.




1959 VOLKSWAGEN SINGLE CAB
SOLD!!!!!!!!
RECENT 1ST PLACE SHOW WINNER!<?xml:namespace prefix="o" ns="urn:schemas-microsoft-com:office:office" />


Features include: New Wolfgang International front drop spindles & rear lowering kit with new Type III swing axle tranny, New fully detailed 1600 dual port engine, New front safari windows, New brakes & front wheel bearings, New interior (roof panels, kick panels, door panels, & seat covers). It even has a chrome "church key".


Probably the cleanest single cab you will find!


Starts, Runs, & Drives Great!


Cruises down the highway at 70 mph+ without breaking a sweat!


Be prepared for honks, waves, & thumbs up!




1966 VW CREW CAB
SOLD!!!
- NEW 1915cc dual port engine, staright cut gears, engle 100
cam, solid rocker shafts, new alternator, coil, 009 dizzy, header with custom
made 2 1/2" flowmaster tuck under exhaust. Rebuilt 4.12 trans. All new
brakes including shoes, wheel cylinders and rubber hoses. Wolfgang dropped
spindles, rear kit, and front safari windows. Polished 5 spokes with 195 50
series up front and 195 65 series out back. new shcoks, and battery. Chrome
front and rear bumpers. Good solid daily driver.







63 single cab, This is a very nice daily driven truck, rebuilt 1600 single port,rebuilt bug nut trans (less than 1000 miles), new brakes-wheel cyls rblt,new shoes,dual master.Frt end gone through,new 12 volt rewiring incl wiper motor. All new rubber seals,window felt and new windshields. Fresh paint inside and out, all glass & rubber removed before painting.All new interior,reupholstered 60/40seat,door panels,headliner,visors mats etc.all wolfsburg west.Blaupunkt CD player with Alpine speakers. Done right.
SOLD!!!

1964 Crew for sale, must sell before snow fall, all parts there, winter project or parts,
SOLD!!!!